It's been nearly a year since our last posting to this geocaching blog, mostly because our baby daughter was born in spring of last year—leaving pretty much zero time for geocaching. She's almost a year old now, and vigorous enough to handle the outdoors like we used to enjoy so we've decided to get back into geocaching.
Geocaching was largely the adventure of "acPilot," but now with the other two on board, we've decided to change our geocaching name to "Trace Amigos." Trace Amigos draws a play on words from the Spanish word "tres" (meaning quite literally, three) but we switched the spelling of the word to give a play on "tracing" geocaches. Phonetically it still sounds the same, and we like it.
Here's our new Team logo: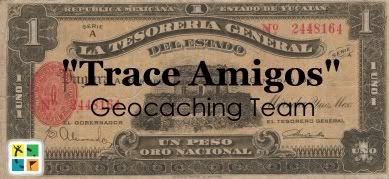 I just received a new Toshiba satellite laptop which doubles as a tablet PC—could be very interesting for use on long geocaching trips, so we'll be sure to post more about geocaching with a laptop here too. It's a bit fragile, but nevertheless useful so we'll see.
Here's a stock photo of the new laptop: