Remember the white micro pill fob's I received last year from a cheap Amazon purchase? Well I finally got around to camouflaging the first, and she's almost ready for placement.
The red rubber seal has to be paint free, but the rest of the micro is green enough to hide but not so perfectly camouflaged that you won't find it hanging in a tree: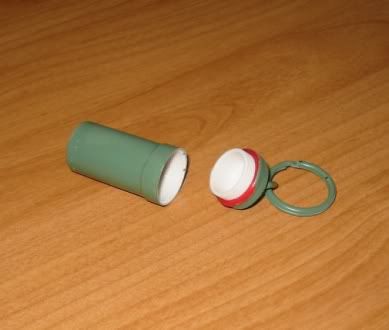 Lots of folks in the geocaching community despise micro caches, and it's understandable why—they aren't creatively hidden. Many are in for the hunt and the "kill" of finding a cache, while even more are in the hobby to see new things and places. Micros tend to be the most commonly placed caches in less-than-notable locations, so they've been given a pretty poor reputation.
Changing the pace of micro caches is the job of every geocacher serious about the sport/game/hobby, and the two (2) primary criteria are simple and
must be given credence before stashing a micro away and posting the coordinates:
1. Camoflauge it accordingly (add a magnet, paint it, creatively hide it) just don't stick with the same old boring stock 35mm film container micros.
2. Try and place your micro somewhere notable! If you cannot seem to meet this criteria, at least try and find something remotely notable about the area you stashed it in. Many of the cachers in it for more than just the find don't enjoy spending the time to find a cache only to find out that the person who placed it had this to say "An airplane flew over this house yesterday, so I thought I'd place a cache here to mark the occasion."
Be creative! Share something new! Think beyond the placement of your caches.