Today was a monumental occasion. The entire family team logged our first cache together without any cajoling from me! After a quick meal at Macaroni Grill (ideal place to eat good food with a baby—a very family-friendly restaurant) we plopped the little one into her stroller and opened up the PDA. After a quick 10 second sync with the Bluetooth and satellites, we had a fix and began walking to what was to be our first family cache.
In this area, there's another geocaching team by the name of Ventura Kids. When we arrived at the cache location and the clue didn't immediately yield cache-gold, I recalled that the cache owner had been given advice from the Ventura Kids on a quick cache relocation a few feet away. It helps to know your major local cache hiders because in this case, the Ventura Kids are famous for magnetic caches leaving only a few places to place them. That in mind, we had the cache in hand in less than a few seconds and I experience a surge of pride as I saw the thrill of the find light up in my wife and little-one's eyes. It was their first cache!
Here's a photo I took to commemorate the occasion (Promenade Micro GCNATE):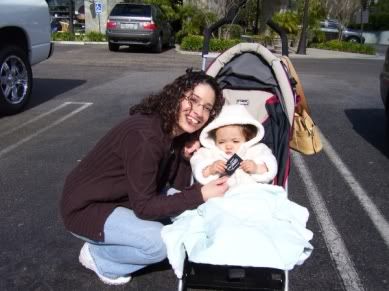 How did I convince them to join me geocaching? Well, for our family getting outdoors is largely difficult as my better half loves to spend time with her family in town and I love to go places and see
new
things. Splitting the difference, we can now get out and get some fresh air (her love) and hunt things down using technology (my joy). Geocaching is the perfect middle ground.
Not long after this find, mom's tummy rumbled a bit from lunch so I took her home for a nap and took the little one out to a quick errand to OSH. Along the way (in the other direction) we grabbed a member-only cache hidden by Dakiba (GCMP08) only to later realize that we didn't have a pen. We'll have to get back later and plop our mark on the log to complete the find. Only two finds today, but being casual geocachers I consider it a successful day!