Today my new Pill Fob micros arrived UPS. I grabbed six of these plastic high-impact nitro pill cases off of Amazon at a $1.69 each (cheap!) here:
EZY Dose Deluxe Nitro Pill Fob's - $1.69
I plan on sprucing up these containers with area-specific camouflage when it's time to place a few, and their unique design could make it pretty fun. Here's a shot of them with a nickel (for size comparison). Note the red rubber o-ring that seals out moisture: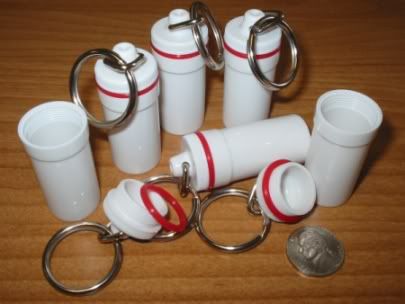 There's other Pill Fob's out there, even some specific to geocaching like the one in this picture: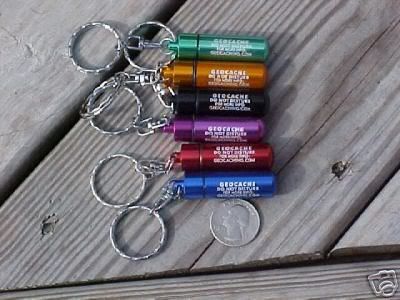 Those metal pill FOB's are great, especially with the GEOCACHE markings emblazoned on the front. The only drawback of these containers is price. This particular model is being sold at over $4.50 a piece, not to mention that these colors don't exactly blend in well with the environment.