Because I work in Real Estate, my PDA is my lifeline. We're attached at the hip. When the geocaching bug bit me last month, I decided to explore adding GPSr functionality to the PDA vs. purchasing a dedicated unit, and I'm glad I did. After a couple of bucks spent on a decent Bluetooth GPSr unit and some Pocket PC GPS software, I was up and running--paperless!
Here's a photo of my PDA and equipment: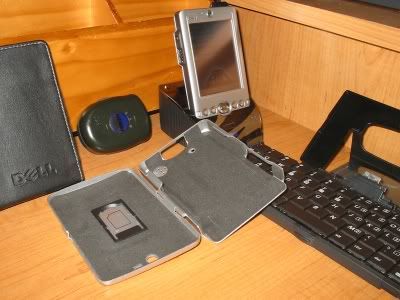 I bought a Dell Axim X30 (mid-range, which is the 312mhz), and the black leather case on the left came with it. I usually use this case for light businessuse because it clips easily to my belt. The hard aluminum case in the foreground cost about $5 on eBay, and I make sure that the PDA is inside this when I step out of the car to look for caches. The small black device in the middle-back with the blue light in the center is my Holux GR-230 Bluetooth GPS receiver. On the far right is my Axim PDA in it's office cradle.
As far as software goes, I use 4 primary utilities/programs, all to which I have provided links for in the far right of this screen:
1. Mapopolis
(incredible turn-by-turn navigation system) Cost me about $100.
2. GPXToMaplet
(PC utility that converts .gpx files for use in Mapopolis) Freeware.
3. BeeLineGPS
(Great for sensitive caching, once you leave the car) Cost me about $30.
4. GPXSonar
(.gpx utility that allows you to carry cache details with you on your PPC PDA-I won't leave home without it) Freeware.
True, my configuration is a bit on the expensive side, and thus won't be the perfect fit for everyone. However, if you own or plan to own a PDA with bluetooth functionality and you'd like to use it for GPS driving or geocaching, this is the best configuration I've found (after testing quite a few).
Happy caching!