The battery came in—the big extended 1700 mAh battery that doesn't sit flush with the device—and I got the software loaded, so today when I finally had some time to grab a lunch break I decided to get out and geocache a little bit in the nearby area to clear my head. It was amazingly effective.
The first cache I set out to find was ingeniously hidden. The clue told me that it was on a fence and magnetic—pretty easy, right? Wrong. The cache owner had somehow located one of the bolts that was loose and pulled it out. He sanded off the end of it, and affixed a very small micro with a metal head and a small magnet. I almost didn't believe I'd found it when I had, because I'd been looking for 15 minutes and just happened to stumle on the right one. GPS coordinates were off by about 7-10 feet (I know, I'm picky) but I eventually had her logged and was on my way smiling from ear to ear.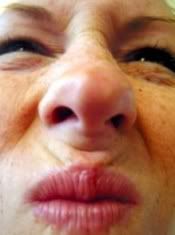 I nabbed a total of 5 caches today: Fencing 101, Wildwood Trail Troll (great view), Set Your Sites Low (smelled of urine and feces—everyone's dream cache location), and Montclef Blvd P&G 1 & 2. The cache with the less-than-favorable odors wasn't the safest spot to hide a cache, either. Sometimes you have to wonder why you're the only one to A) notice it and B) actually say something about it. A few years ago I found a cache that was hidden behind a car safety rail—the kind they put up to deflect a car from going off a hill—at the end of a blind hill. Genius. To top it off, there was no safety margin of a sidewalk or obstacle to hide behind if one of the 50mph cars strayed. I wasn't too quiet about that one.
All in all, it looks like team TetrAmigos is back in action, using an upgraded setup to boot! I'll post more on the status of the geocaching tools later, but for now I'm going to bask in the glory of getting our cache count up a little higher and enjoying some spectacular and not-so-spectacular views along the way.